Approved Valeters & Detailer

Autobrite Direct UK are looking to increase its network of Autobrite Direct Authorised Businesses across the UK, would you like to be part of the scheme? if so we would like to hear from you. Please contact us on This Authorised Approval E-mail Form
The cost of authorisation is currently £200 INC VAT or Spend Over £160 INC VAT on Autobrite Direct branded products on the day of your approval (deposit required) and you will receive your accreditation and will save £40. When you become authorised, this enables you to use our approved logo and allows you to have a unique discount code for future purchases plus many more features listed below. **NO DISCOUNT OR DISCOUNT CODE CAN BE USED WITH THE START UP FEE **

The objective of the Autobrite Direct Approval Scheme is to offer Customers confidence when choosing a Valeter or Detailer in the UK;
We include the following as standard as part of our package.
- Inclusion of AD Approved Logo on Vehicles / Marketing Material / Website Listing
- Certification of approval by Autobrite Direct
- Discounts on Trade related products with your own unique discount code
- Business Start-up Advice / Training days*
- Approved status on the Autobrite Direct forum
- Dont have a website! dont worry - Post your work free of charge on our forum to show case your work INC your contact details.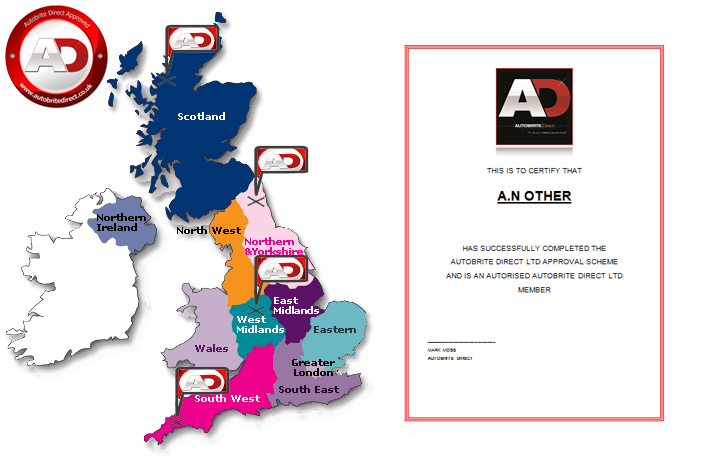 Visit our full up to date list of approved members here.
Before Reading any further, we would like to ask you a few question and please answer truthfully;.
- Do you have valid valeting or detailing insurance cover?
- You are in a position to place at least 3 orders on Autobrite Direct branded stock a year with a minimum spend of £100
- Are you a member of any other Approved Schemes and do they allow you to gain more approvals?
- Would you be willing to recommend Autobrite Direct Products if asked for product recommendations by customers?
- Are you able to attend an assessment centre at our head office for your approval?
if you answered Yes to all of the above you could be eligible to be part of the Autobrite Direct approval Scheme
How Do I Become A Member?
We welcome all sizes of companies from part time to full time. However, we do ask you to work to a specific set of guidelines that generally offer your clients the best service at a fair price.
Is There a Test To Become A Member?
There is no test but an Assessment centre, we can then see if you are to the standard we require to wear the AD logo with pride. If we feel you need further training* in any area of the approval we will be more than happy to work with you to achieve this. The approval is in the form of a One Day practical.
So How Do You Check The Quality Of Members Work?
We may use a 'Mystery Shopper'. Basically, the 'shopper' acts as normal customer and uses your service. They could use your service at any time so you are unaware of their activities. We then receive feedback on the quality of your work and your customer service skills..
What happens if the feedback is bad?
We inform you of the feedback you received and ask you to improve the relevant areas. We then carry out a further 'shop' to see if you have taken notice of the previous findings. if no notice is taken, you will be asked to either attend a training course if its a work quality issue or we will dissolve your approved status.
Why will customers use a approved valeter or detailer?
Our approved scheme works to a strict code of practice to ensure clients are offered the highest quality standards.
Why would a customer choose a AD Approved Valeter or detailer?..
Because they;
- are fully insured,
- they offer the highest quality work we know of
- have passed the our strict approval scheme and assessment centre,
- use ONLY high quality valeting products,
- are regularly monitored on their quality services,
Legal Notice
There are no other restrictions to becoming a member of the approval scheme than listed above we like to think we are as transparent as we can be, but we are able to change our guide lines without prior notice to protect the Autobrite Direct LTD Branding if we see fit, also we can revoke your membership if we see a serious breach of the guide lines. by signing up to the approval scheme you agree to the terms above and if your approval status is revoked we ask, any media of your Approval is removed within 7 working days of the revoke notice.
*there may be a charge for any further training days